CHCI's Swearing-In Ceremony & Welcome Reception Celebrated the Largest Class of Hispanic Members of Congress in History!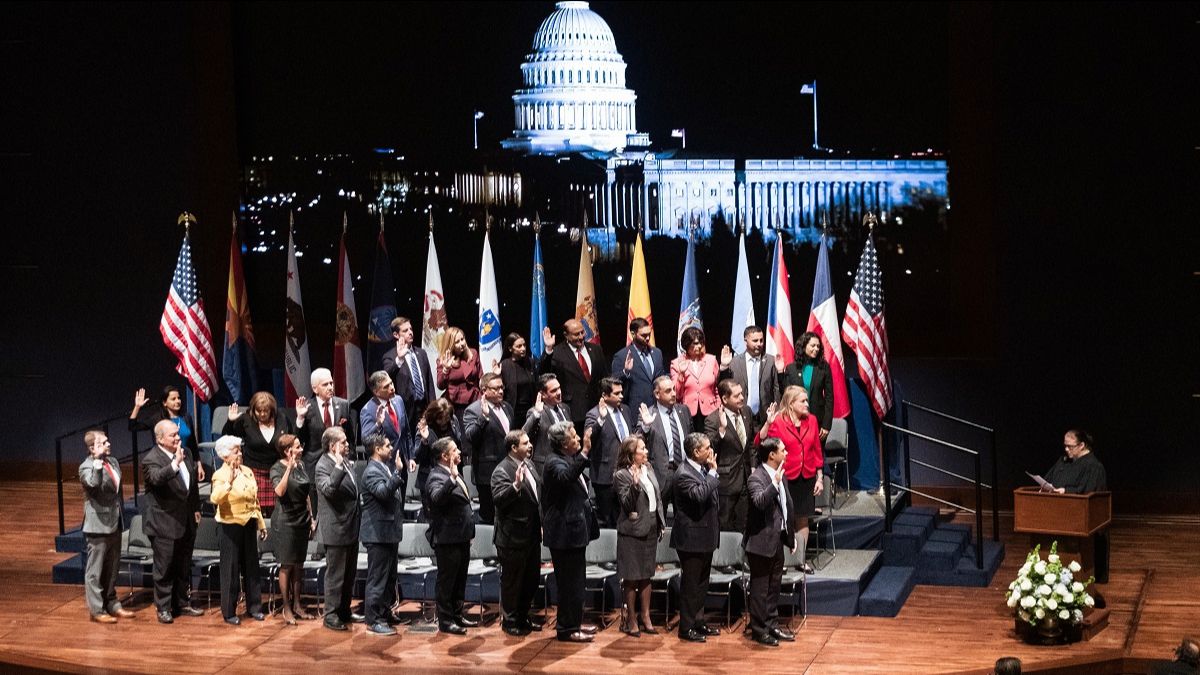 CHCI celebrated the Hispanic members of the 116th Congress with the Swearing-In Ceremony and Welcome Reception on January 9, 2019 at the Capitol Visitor Center.
The historic and inspirational event convened over 500 guests to celebrate the largest class of Hispanic members in the most diverse Congress in the history of the United States!
The ceremony featured speeches by CHC Chair Rep. Joaquin Castro, CHCI Chair Rep. Ruben Gallego, and CHCI President & CEO Domenika Lynch, along with remarks by special guests House Speaker Rep. Nancy Pelosi and Senator Minority Leader Chuck Schumer.
"Forty-one years ago, five visionary leaders of the Latino community came together to create CHCI, and their vision and leadership shines bright today," said Domenika Lynch, CHCI President and CEO. "It's because of their dedication to uplifting our communities that we can celebrate the advancement of Latino representation in Congress today."
"We are getting more and more to look like the America we love and the record number of people here on this platform is testament to that and it makes me proud to be an American," concurred Senator Schumer.
Representative Ruben Gallego, incoming CHCI Chair, concluded the ceremony by saying that "CHCI plays an important role in providing opportunities for young people to grow and flourish in our nation's capital and beyond, developing future Latino and Latina leaders. We look forward to continuing our hard work to build and maintain a pipeline of emerging talent that will one day lead multinational corporations, serve in government agencies, non-profits, and other industries as we do our part to strengthen the current and future workforce in our country."

We are grateful to our hosts Bank of America, Novo Nordisk and Target, and our supporting sponsors whose financial investments transform the lives of thousands of talented American leaders!
EVENT HOSTS
Bank of America, Novo Nordisk and Target
SUPPORTED BY
AARP
American Beverage Association
American Gaming Association
American Petroleum Institute
Amgen
AT&T
Business Roundtable
Charter Communications
Crown Imports/Constellation Brands
Cordoba Corporation
Diageo
Heineken
Mastercard
National Association of Letter Carriers, AFL-CIO
PG&E Corporation
PhRMA
Planned Parenthood Federation of America
Salt River Project
SEMPRA Energy
Society for Human Resource Management
T-Mobile
United Airlines
US Chamber of Commerce