Congressional Internship Program
Experience:
Undergraduate Student & Recent Graduate
Application Launch:
August 15, 2023
Application Deadline:
December 1, 2023 & March 1, 2024
With CHCI's paid internships offered during the Summer and Fall, students can apply for the program that best fits their college timeline and schedule.
CHCI interns will meet accomplished leaders—including CHCI Alumni— dedicated to improving the Latino community. These leaders come from a wide range of professional backgrounds, including Capitol Hill, Fortune 500 companies, NGOs, nonprofits, and other organizations that support Latino education and leadership development.
The Congressional Internship Program (CIP) equips participants with legislative knowledge, cultural competency, an extensive network and personal and professional leadership skills. CHCI interns come to D.C. from across the country and Puerto Rico. They will meet fellow Latinos from different heritages and backgrounds—learning as much from each other as from CHCI. As they work together, serve the community, and explore the nation's capital, interns will build bonds that will last beyond the program.
Interns will attend weekly programming sessions centered on CHCI's four Pillars of Leadership—Self Discovery, Transformation through Collective Power, Rooted in my Strength, and Planting Seeds for Tomorrow. The CHCI pillars provide the support needed to strategize and produce organized, culturally relevant programming with timely content to create opportunities, transform, influence, and connect the next generation of Latino leaders.
apply now
---
PROGRAM REQUIREMENTS
Attend one-week orientation and weekly leadership development sessions
Work a minimum of 32 hours a week in congressional office assignment
Participate in all CHCI-sponsored activities
Complete community service hours
Comply with CHCI policies regarding work performance and personal conduct
View program flyer
PROGRAM BENEFITS
Congressional Office Internship Placement
Great Pay: $3,750 (Fall), $3,125 (Summer)
Domestic round-trip transportation to Washington, D.C.
Furnished Housing (Rent and Utilities Covered)
Academic Credit (we encourage participants to discuss this with their academic advisors)
Leadership Training, Networking and more
PROGRAM ELIGIBILITY
High academic achievement (preference of 3.0 GPA or higher)
Evidence of leadership skills and potential for leadership growth
Demonstrated commitment to public service-oriented activities
Superior analytical skills, outstanding oral and written communication skills
Students must currently be enrolled full time and working towards their undergraduate degree in the academic period prior to participation. Recent graduates who graduate in the term immediately prior to the program session may apply

Summer 2024 Program: Must be enrolled full time during Spring 2024 (Spring 2024 quarter/semester graduates may apply)
Fall 2024 Program: Must be enrolled full time during Spring 2024 OR Summer 2024 (Summer enrollment not required). Spring 2024 quarter/semester and Summer 2024 graduates may apply

If selected as a finalist, all individuals will be required to provide proof of enrollment to participate in the program
Community college individuals graduating in June are eligible for the Summer session if they are transferring to a 4-year institution come the Fall semester. If selected, they will be required to provide confirmation of enrollment at new institution for the Fall semester.
Applicants must be U.S. citizens, lawful permanent residents, asylees, or individuals who are lawfully authorized to work full-time without restriction for any U.S. employer and who, at the time of application, possess lawful evidence of employment authorization. International students on F-1 or M-1 visas are not eligible for CHCI programs

NOTE: Individuals who are seeking consideration under the "Deferred Action for Childhood Arrival" (DACA) policy must be eligible to work and possess valid employment authorization at the time of acceptance, and must maintain continuous lawful employment authorization for the duration of the program for which the person is applying
CHCI hosts interns two times a year:
Summer 2024: May 22 – August 2, 2024 (10 weeks)

Fall 2024: August 24 – November 15, 2024 (12 weeks)
Summer is a time when D.C. is full of interns, creating many networking opportunities; in the Fall, interns have the opportunity to participate in CHCI's Hispanic Heritage Month events.
No matter which semester sounds best to you, we encourage all applicants to apply to every session (Summer, Fall) if they are eligible, as our application pools are very competitive year after year.
2024 Congressional Internship applications are due at 11:59 pm Eastern Time on the following dates:
Summer 2024 Internship Deadline: December 1, 2023

Fall 2024 Internship Deadline: March 1, 2024
We encourage all applicants to apply as early as possible to facilitate the review process and avoid any technical complications. 
Yes, based on the written applications submitted, a number of candidates will be selected for a pre-recorded video interview. 
A candidate is selected based on their demonstrated leadership experience, commitment to advancing the Latino community, quality of writing, letter of recommendation, and resume. Sponsor preferences are also taken into consideration.
Candidates are reviewed after the closing of each respective application by program alumni, CHCI programs staff and, in some cases, sponsoring partners. While we strive to provide a timely decision to all candidates within about six weeks of the application deadlines, this time period can vary between applications.
Your essays are the best opportunity to tell us about you. Take advantage of this space to indicate how you have exercised leadership in your family or community and how that has contributed to your interests in public policy. Please also ask a friend, professor, or mentor to review your essays in advance or to help you brainstorm what to talk about.
Yes. Applicants are not required to disclose their citizenship status during the application process. Once admitted, CHCI will require work authorization for onboarding purposes. Any DACA applicant accepted must have a work authorization valid through the last day of their program.
No. CHCI strongly discourages participants from enrolling in any courses outside of those that relate to receiving credit for their internship. CHCI interns cannot enroll in more than 8 online credits while participating in the program. The internship experience is intense and time consuming; interns who have tried to maintain a full time course load while completing the program have not had positive experiences.
After a week-long orientation, Congressional interns are assigned to a Congressional Office where they gain first-hand knowledge of how the U.S. legislative process works. Intern duties may include, but are not limited to, responding to constituent inquiries, drafting correspondence and memos, attending congressional hearings, conducting legislative research, data entry and analysis, supporting departmental meetings and telephone conferences, and assisting with general office operations.
As part of the internship experience, CHCI also provides weekly programming sessions based on developing and strengthening legislative knowledge, cultural competency, professional and leadership skills.
Congressional interns are placed in offices that primarily align with their regional background. The program's priority is to provide participants the opportunity to explore a new professional space and learn ways in which to approach public policy issues. Whenever possible, CHCI will take into consideration political party affiliations and work styles; however, we cannot guarantee placement in any specific office. If you are only interested in interning in a specific member's office, we recommend you complete their office internship program.
Applicants interested in making an investment in the Latino community and/or working on policies that affect the Latino population are welcome to apply to any and all CHCI programs.
My time as a CHCI Intern has honestly helped change my trajectory for my career. CHCI has prepared me to be a strong Latina leader ready to do what she can to make change for her community.
Fall 2022 Congressional Intern, Kyla Dee Anderson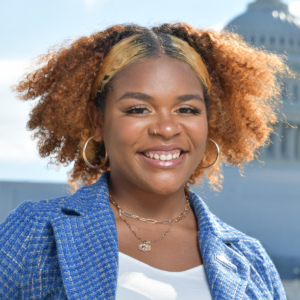 Rising Juniors & Seniors
NextGen Latino Leadership Program
The NextGen Latino Leadership Program provides Latino high school students the opportunity to spend a week in Washington, D.C., exploring the city and the role it plays in our nation's past, present, and future.
Deadline: February 15, 2024
College Graduate
Public Policy Fellowship Program
This nine-month paid program helps talented Latinos accelerate their careers as public policy leaders. Applicants to the Public Policy Fellowship Program must have earned a bachelor's degree within three years of the program start date.
Deadline: December 15, 2023