Distinguished Alumnus Award
The Medallion of Excellence for a Distinguished Alumnus recognizes a CHCI alumnus who has made an outstanding contribution to the Latino Community and who has thereby achieved distinction. This prestigious annual award is meant to highlight the impact of CHCI's programs and the prominence of its alumni. Those considered are judged on the full range of their professional and community accomplishments. (CHCI Board Approved: March 2006)
2023
PRISCILLA ORTA
Priscilla, who was raised by her grandparents, had always desired to be a lawyer. Priscilla remembers many summers when her grandmother would stop by the fields to offer farmworkers food and water. From her grandmother, Priscilla learned of her Mexican roots and her family's fight for respect and equal treatment; from her grandfather, she learned to value service to our country. Daniel was a proud Korean War Veteran who fought a decades-long battle against the VA due to his service-connected injuries.
In February of 2001, Priscilla's life changed forever when she earned an unofficial early admission to Harvard University. Priscilla participated in CHCI's Summer Internship class of 2002. That summer, she was blessed with peers who loved and understood her, as well as the opportunity to gain an insider's view of politics. After Harvard, Priscilla took part of the DCCC's campaign committee and was a DNC organizer in Kansas.
After working in politics and teaching for several years, Priscilla attended Columbia Law School and maintained high academic achievement. After graduating from Columbia in 2011, Priscilla clerked at the Harlingen Immigration Court—an assignment she specifically requested. By 2011, Priscilla knew that the Rio Grande Valley was her real home. Her two years with the Court reaffirmed the need for quality attorneys to take the hardest cases and fight the hardest fights.
Priscilla is currently the Supervising Attorney of Project Corazon, a division of Lawyers for Good Government. Project Corazon responds to the constantly shifting needs at the border by representing asylum seekers in MPP, providing remote Know-Your-Rights presentations, and serving the representational needs of the local RGV Community. Project Corazon documents conditions on both sides of the border and organizes lawyers to take action to improve the situation and create social change. Priscilla is honored to work with Lawyers for Good Government because it allows her to keep the promises she made to her grandparents forty years ago: She fights for justice, forces America to live up to its highest potential, and serves her country. It is an honor to fight for what is right every single day.
2022
KENIA SEOANE LÓPEZ
Kenia Seoane López is an Associate Judge in the Superior Court of the District of Columbia. Judge Seoane López was appointed by President Joseph R. Biden Jr. in June 2021 and confirmed by the Senate in February 2022.
Before becoming an Associate Judge, she served as a Magistrate Judge, having been appointed by Chief Judge Lee Satterfield in 2012.
Judge Seoane López served as the Bilingual Attorney Negotiator in the Domestic Violence Division of the District of Columbia Superior Court. Prior to joining the Court, she was an Assistant Attorney General in the Legal Services Section of the Child Support Division in the Office of the Attorney General for the District of Columbia. Judge Seoane López served as a law clerk to the Massachusetts Superior Court and the Superior Court of the District of Columbia.
She is a 2002 graduate of the University of Wisconsin Law School. In 2002, she also received a Master of Arts from the University of Wisconsin Graduate School in Latin American, Caribbean, and Iberian Studies. She graduated cum laude from Northeastern University in Boston, Massachusetts with a Bachelor of Science in Criminal Justice.
She served as the President of the Hispanic Bar Association of the District of Columbia. Judge Seoane López is the District 4 Secretary for the National Association of Women Judges.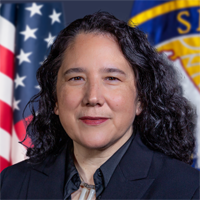 2021
ISABELLA CASILLAS GUZMAN
Isabella Casillas Guzman was sworn in as the 27th Administrator of the U.S. Small Business Administration on March 17, 2021. She serves as the voice for America's 30 million small businesses and innovative startups in President Biden's Cabinet. She has spent her entire career advising entrepreneurs, launching ventures, and creating policies and programs to advance entrepreneurship and innovation. Most recently, she served as the Director of the California Office of the Small Business Advocate where she helped small businesses and innovative startups in the world's fifth largest economy start, expand, and grow. In addition, she served as the economic recovery support function coordinator for the state, where she spearheaded the small business recovery effort during the COVID-19 pandemic.
2020
MILDRED OTERO
Mildred Otero is the Senior Vice President for National Impact at Leadership for Educational Equity (LEE). In this role, she oversees four national teams committed to developing the leadership skills of its members to pursue leadership opportunities that empower them to end educational inequities in the United States through advocacy, elected, organizing and policy. Prior to joining LEE, Mildred served as the Chief Education Counsel in the U.S. Senate Committee on Health, Education, Labor and Pensions, where she managed the Senate Majority's education agenda and its policy development and strategies for children from cradle to career. Such efforts included, legislation addressing early childhood education, childcare, elementary and secondary education, higher education and the workforce.
Previously, Mildred served as a senior policy officer with the Bill and Melinda Gates Foundation; senior advisor at the United States Department of State/United States Agency for International Development; senior policy advisor to US Senator Hillary Clinton (D-NY); legislative assistant to US Senator Reed (D-RI) and Deputy Director for Early Childhood at the Children's Defense Fund. Mildred began her policy work in Washington, D.C. through the Congressional Hispanic Caucus Institute Graduate Fellowship program. In an op-ed published in The 74, Mildred shared how her experience as a CHCI Public Policy Fellow impacted her professional and personal life. Before her time in Washington, Mildred was a counselor for child victims of sexual and physical abuse at the Brooklyn District Attorney's Office and began her career as a legislative aide to the New York State Assembly Speaker in Albany, NY.
Mildred earned a Bachelor of Arts degree from the State University of New York- Albany and a Master's degree from New York University, Silver School of Social Work. Mildred currently serves as an advisory board member for Communities In Schools; previously served as board member for Complete College America and completed the seventeenth cohort of the Aspen-Pahara Education Fellowship.
2019
ALEJANDRA Y. CASTILLO
Alejandra Y. Castillo serves as the Chief Executive Officer (CEO) of YWCA USA and its network of 210 associations serving 2.2. million women and girls around the country in 46 states and the District of Columbia. With over two decades of professional experience in Washington, D.C., she has served in senior leadership in two presidential administrations. Given her policy, legal and business expertise, Alejandra has worked in various public, private and non-profit settings. In 2014, Alejandra was appointed by the Obama Administration to serve as the national director of the Minority Business Development Agency (MBDA), becoming the first Hispanic-American woman to lead the agency, helping to secure financing and capital in excess of $19 billion and creating or retaining over 33,000 jobs.
Alejandra holds a Bachelor of Arts degree from the State University of New York at Stony Brook in economics and political science; a Master of Arts degree in public policy from the Lyndon Baines Johnson School of Public Affairs, University of Texas at Austin; and a Juris Doctorate from American University, Washington College of Law. Alejandra is an active member in various civic and professional organizations, and currently serves on a number of boards. She consider herself an example of the American dream, and is proud to have raised two amazing nieces she calls her daughters. A long-standing and committed resident of the District of Columbia, Alejandra is a supporter of the arts and an avid international traveler.
2018
JUAN OTERO
Juan Otero serves as Vice President of Diversity & Inclusion for Comcast Corporation. In this role, Juan oversees the strategy and implementation of diversity and inclusion initiatives across the company in five focus areas: governance, workforce, procurement, programming and community impact. He also works closely with Comcast's Executive Internal Diversity Council and its Workforce Diversity & Inclusion team, and the external Comcast NBCUniversal Joint Diversity Advisory Council.
Juan previously served as Vice President of Federal Government Affairs for Comcast NBCUniversal, responsible for federal legislative advocacy with Members of Congress and the Administration. He was also responsible for developing strategies for achieving corporate legislative objectives.
Prior to joining Comcast in 2007, Juan served as a director for the National Governors Association in Washington, D.C. and previously served as Deputy Director at the U.S. Department of Homeland Security (DHS), where he oversaw the Department's efforts to develop improved interoperability technologies and communications. Before joining DHS, he worked as Principal Counsel for the National League of Cities.
Juan is currently a Board Member of Make Room USA, serves on the Executive Committee of the Congressional Hispanic Caucus Institute, and as a Board Member of the Congressional Hispanic Leadership Institute.
Juan holds a J.D. from the Benjamin N. Cardozo School of Law and a M.P.A. from American University.
Criteria: Must have successfully completed the CHCI Fellowship program at least 15 years prior (or the Internship program 20 years prior) to date of nomination and must exhibit dedicated civic engagement and leadership in the Latino community. For questions email: chcialumni@chci.org