Summer 2023 Congressional Interns
Antonio Cruz Preciado
Current Position/Organization
CHCI-Charter Communications Intern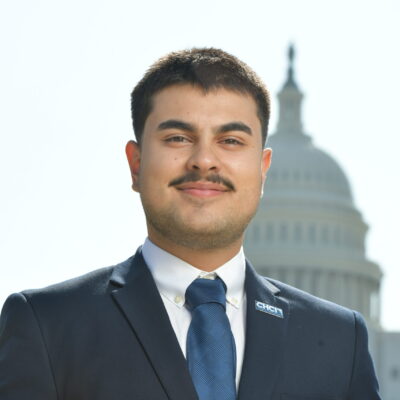 Hometown: Inglewood, California
School: Stanford University
Major: Comparative Studies in Race and Ethnicity, Sociology
Placement: The Office of Rep. Jimmy Gomez
Antonio Cruz Preciado was born and raised in Inglewood, California to a single mother. He grew up across borders and as a Mexican and American citizen, he also calls the small pueblo, Tecolotlan, Jalisco in Mexico home. Being the first in his family to graduate from high school and pursue higher education, Antonio deeply values the transformative power of bridging education and community.
He is currently a third year at Stanford University double majoring in Comparative Studies in Race and Ethnicity and Sociology with a minor in Human Rights. On campus, he is the founder of Derechos, Stanford's Latinx Pre-Law Society where he works to create spaces for Latinx students to share their unique experiences and visions of the American legal systems to form intersectional and new approaches to justice. Upon completing his undergraduate degree, Antonio intends to go to law school. He hopes to work at the cornerstone of incarceration and education, specifically in prevention and reintegration programs for systems-impacted youth to pursue higher education opportunities.
As a CHCI Intern, Antonio hopes to continue building from the legacies of impactful Latinx on-the-ground leaders and join prominent congressional members to gain a better understanding of the legislative process. His goal is to make policy construction a community-based and trauma-informed process to bridge the socio-political misconnection present within policy.