Post Graduate Fellowship Program 2021-2022
ISABELLA PAZ BALDRICH
Current Position/Organization
CHCI-PepsiCo Nutritional Health Graduate Fellow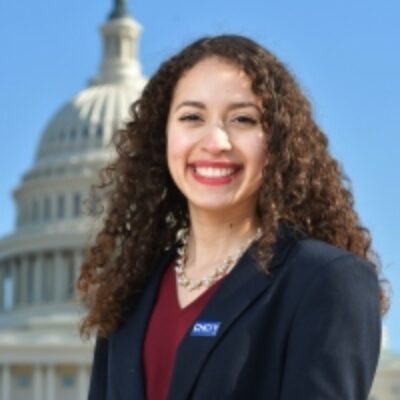 Hometown: Budd Lake, NJ
School: Saint Elizabeth University
Degree: Master of Science in Nutrition
Placement: U.S. House Committee on Education and Labor
Isabella Paz Baldrich (she/her/hers) was born in Colombia and came to the United States when she was two years old. She grew up in northern New Jersey and attended a vocational and technical high school where she studied culinary arts for four years. During this time, she developed an interest in nutrition. After high school, she decided to continue her education at the County College of Morris, where she received an A.S. in Biology focused in nutrition. She then went on to earn her B.S. in Food Science and Nutrition from Montclair State University, graduating magna cum laude in 2019. During her time at MSU, she did community service hours at The Center of Excellence for Latino Health at Clara Maass Medical Center. Here she provided nutrition education to lower-income Latino communities and realized how important nutrition education is as well as how diet and chronic diseases negatively impact Latino health. Food insecurity is something Isabella is passionate about because although food is a fundamental human right, not every person has equal access to affordable, nutritious food.
Isabella has completed a combined M.S. in Nutrition and dietetic internship at Saint Elizabeth University to become a registered dietitian nutritionist. Prior to starting her internship, Isabella was interested in becoming a dietitian working in a community setting, but after spending a few weeks as an intern in the Intensive Care Unit taking care of patients with complex cases, she wishes to pursue a career as a clinical dietitian. During her dietetic internship, Isabella worked with federal nutrition programs such as SNAP-Ed, and saw how these programs target low-income communities, which are predominantly Latino, in her county of residence.
As a CHCI-PepsiCo Nutritional Health Graduate Fellow, Isabella aspires to expand her healthcare and nutrition policy knowledge and understand how those policies directly affect individuals. She hopes to diversify her network of individuals from different sectors of the public health, healthcare, and foodservice industries to develop creative ways to address Latino health.