The Medallion of Excellence for a Distinguished Alumnus recognizes a CHCI alumnus who has made an outstanding contribution to the Latino Community and who has thereby achieved distinction. This prestigious annual award is meant to highlight the impact of CHCI's programs and the prominence of its alumni. Those considered are judged on the full range of their professional and community accomplishments. (CHCI Board Approved: March 2006)
Criteria:
Must have successfully completed the CHCI Fellowship program at least 15 years prior (or the Internship program 20 years prior) to date of nomination.
Must exhibit dedicated civic engagement and leadership in the Latino community
2022 Kenia Seoane López
Kenia Seoane López is an Associate Judge in the Superior Court of the District of Columbia. Judge Seoane López was appointed by President Joseph R. Biden Jr. in June 2021 and confirmed by the Senate in February 2022.
Before becoming an Associate Judge, she served as a Magistrate Judge, having been appointed by Chief Judge Lee Satterfield in 2012.
Judge Seoane López served as the Bilingual Attorney Negotiator in the Domestic Violence Division of the District of Columbia Superior Court. Prior to joining the Court, she was an Assistant Attorney General in the Legal Services Section of the Child Support Division in the Office of the Attorney General for the District of Columbia. Judge Seoane López served as a law clerk to the Massachusetts Superior Court and the Superior Court of the District of Columbia.
She is a 2002 graduate of the University of Wisconsin Law School. In 2002, she also received a Master of Arts from the University of Wisconsin Graduate School in Latin American, Caribbean, and Iberian Studies. She graduated cum laude from Northeastern University in Boston, Massachusetts with a Bachelor of Science in Criminal Justice.
She served as the President of the Hispanic Bar Association of the District of Columbia. Judge Seoane López is the District 4 Secretary for the National Association of Women Judges.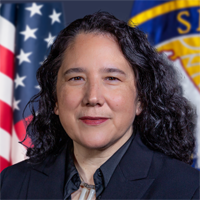 2021 Isabella Casillas Guzman
Isabella Casillas Guzman was sworn in as the 27th Administrator of the U.S. Small Business Administration on March 17, 2021. She serves as the voice for America's 30 million small businesses and innovative startups in President Biden's Cabinet. She has spent her entire career advising entrepreneurs, launching ventures, and creating policies and programs to advance entrepreneurship and innovation. Most recently, she served as the Director of the California Office of the Small Business Advocate where she helped small businesses and innovative startups in the world's fifth largest economy start, expand, and grow. In addition, she served as the economic recovery support function coordinator for the state, where she spearheaded the small business recovery effort during the COVID-19 pandemic.
2020 Mildred Otero
Mildred Otero is the Senior Vice President for National Impact at Leadership for Educational Equity (LEE). In this role, she oversees four national teams committed to developing the leadership skills of its members to pursue leadership opportunities that empower them to end educational inequities in the United States through advocacy, elected, organizing and policy. Prior to joining LEE, Mildred served as the Chief Education Counsel in the U.S. Senate Committee on Health, Education, Labor and Pensions, where she managed the Senate Majority's education agenda and its policy development and strategies for children from cradle to career. Such efforts included, legislation addressing early childhood education, childcare, elementary and secondary education, higher education and the workforce.
Previously, Mildred served as a senior policy officer with the Bill and Melinda Gates Foundation; senior advisor at the United States Department of State/United States Agency for International Development; senior policy advisor to US Senator Hillary Clinton (D-NY); legislative assistant to US Senator Reed (D-RI) and Deputy Director for Early Childhood at the Children's Defense Fund. Mildred began her policy work in Washington, D.C. through the Congressional Hispanic Caucus Institute Graduate Fellowship program. In an op-ed published in The 74, Mildred shared how her experience as a CHCI Public Policy Fellow impacted her professional and personal life. Before her time in Washington, Mildred was a counselor for child victims of sexual and physical abuse at the Brooklyn District Attorney's Office and began her career as a legislative aide to the New York State Assembly Speaker in Albany, NY.
Mildred earned a Bachelor of Arts degree from the State University of New York- Albany and a Master's degree from New York University, Silver School of Social Work. Mildred currently serves as an advisory board member for Communities In Schools; previously served as board member for Complete College America and completed the seventeenth cohort of the Aspen-Pahara Education Fellowship.
2019 Alejandra Y. Castillo
Alejandra Y. Castillo serves as the Chief Executive Officer (CEO) of YWCA USA and its network of 210 associations serving 2.2. million women and girls around the country in 46 states and the District of Columbia. With over two decades of professional experience in Washington, D.C., she has served in senior leadership in two presidential administrations. Given her policy, legal and business expertise, Alejandra has worked in various public, private and non-profit settings. In 2014, Alejandra was appointed by the Obama Administration to serve as the national director of the Minority Business Development Agency (MBDA), becoming the first Hispanic-American woman to lead the agency, helping to secure financing and capital in excess of $19 billion and creating or retaining over 33,000 jobs.
Alejandra holds a Bachelor of Arts degree from the State University of New York at Stony Brook in economics and political science; a Master of Arts degree in public policy from the Lyndon Baines Johnson School of Public Affairs, University of Texas at Austin; and a Juris Doctorate from American University, Washington College of Law. Alejandra is an active member in various civic and professional organizations, and currently serves on a number of boards. She consider herself an example of the American dream, and is proud to have raised two amazing nieces she calls her daughters. A long-standing and committed resident of the District of Columbia, Alejandra is a supporter of the arts and an avid international traveler.
2018 Juan Otero
Juan Otero serves as Vice President of Diversity & Inclusion for Comcast Corporation. In this role, Juan oversees the strategy and implementation of diversity and inclusion initiatives across the company in five focus areas: governance, workforce, procurement, programming and community impact. He also works closely with Comcast's Executive Internal Diversity Council and its Workforce Diversity & Inclusion team, and the external Comcast NBCUniversal Joint Diversity Advisory Council.
Juan previously served as Vice President of Federal Government Affairs for Comcast NBCUniversal, responsible for federal legislative advocacy with Members of Congress and the Administration. He was also responsible for developing strategies for achieving corporate legislative objectives. 
Prior to joining Comcast in 2007, Juan served as a director for the National Governors Association in Washington, D.C. and previously served as Deputy Director at the U.S. Department of Homeland Security (DHS), where he oversaw the Department's efforts to develop improved interoperability technologies and communications. Before joining DHS, he worked as Principal Counsel for the National League of Cities.   
Juan is currently a Board Member of Make Room USA, serves on the Executive Committee of the Congressional Hispanic Caucus Institute, and as a Board Member of the Congressional Hispanic Leadership Institute.
Juan holds a J.D. from the Benjamin N. Cardozo School of Law and a M.P.A. from American University.
2017 Susan Santana
Susan Santana has exemplified leadership in her personal and professional life through her tireless advocacy of CHCI, willingness to mentor CHCI program participants and alumni and her dedicated service on the CHCI Board of directors.
Ms. Santana proved to be an accomplished scholar, receiving a double bachelor's degree from the University of California at Berkeley, and earned her law degree from UCLA School of Law. In 1996, Ms. Santana was selected as a CHCI-Public Policy Fellow and clerked for a federal judge on the U.S. District Court in the District of Columbia which led her to a path working in public policy and corporate law. She then began practicing law at Holland & Knight in Washington, D.C. and later at Baker and McKenzie in San Diego. Susan also served as Government Affairs Counsel for Dell Inc.
Susan currently serves as Assistant Vice President of Federal Relations for AT&T. In this capacity, she is responsible for representing AT&T's legislative interests before the U.S. Congress on matters related to technology, internet, taxes and corporate diversity issues. Prior to this role, she served on the External Affairs team of AT&T, developing and managing long-term strategic relationships with key constituency groups, especially the Hispanic space.
Ms. Santana's involvement in the community has been extensive including board service and leadership positions on the Congressional Hispanic Caucus Institute, Congressional Hispanic Leadership Institute, the National Association of Latino Elected Officials Education Fund, past president of the Hispanic Bar Association of D.C., and current President of the Hispanic Lobbyists Association in Washington D.C.
2016 Arnoldo Avalos
Arnoldo Avalos manifests the American dream, coming from humble beginnings to achieve financial and social upward mobility. Arnoldo immigrated at the age of five to the town of Gridley, California, in the Upper Sacramento Valley, from a small agricultural town in Jalisco, Mexico.
After graduating from Gridley High School at the age of 19, Arnoldo traveled to Washington, D.C., to be part of the CHCI Congressional Internship Program, working for the U.S. House Committee on Agriculture. His internship taught him about the political process; how policy is made, how laws are passed, how hearings are conducted, and how constituents are represented. It allowed him to experience first-hand government at work. The CHCI experience influenced him to go into politics and study government. After the program, he attended the University of California, Berkeley, where he graduated with honors with a B.A. in history. Subsequently, Arnoldo received an M.P.P from Harvard University's John F. Kennedy School of Government.
In December of 2012, Arnoldo co-founded the Avalos Foundation with his wife, Alma-Ruth Gutierrez-Avalos, to support and inspire the next generation of leaders. The Avalos Foundation understands that education is the greatest equalizer, providing social and economic upward mobility. Since its inception, the Avalos Foundation has focused on providing scholarships to low-income high school students who are attending the University of California system. In addition to the scholarship award, the foundation provides mentorship, career guidance, and an overall support network. The Foundation is also responsible for one of the largest contribution to CHCI by an alumnus.
2015 Alejandra Ceja
As a founder, former president and active senior member of the CHCI-AA, Alejandra Ceja has played a pivotal role in expanding its network of more than 3,330 alumni across the country and shepherding a new direction for the Association. Alejandra helped pioneer the full engagement of the CHCI-AA on the CHCI Board of Directors, securing a full voting seat on the Board in 2010. She regularly supports CHCI's public policy work as a sought-after expert, appearing at CHCI's Public Policy Conferences, Capitol Hill briefings and professional development programming for current participants and alumni. Year after year, Alejandra has served as an inspiring and dedicated mentor to the increasing number of students and young professionals who come to Washington D.C.
Alejandra was appointed by the White House in 2013 to serve President Barack Obama and U.S. Secretary of Education Arne Duncan as the executive director of the White House Initiative on Educational Excellence for Hispanics. In this role, Ceja works closely with the President's Advisory Commission on Educational Excellence for Hispanics and the Federal Interagency Working Group on Educational Excellence for Hispanics in an effort to increase the educational attainment and life outcomes of Hispanics across the nation.
2014 Henry Fernandez
As an alumnus of the CHCI 1987-88 Fellowship Program, Fernández has played an integral role in not only the growth of CHCI, but also the formation of its nearly 3,000 strong alumni network. He served on CHCI's Board of Directors for five years and held the position of CHCI Treasurer.
Henry Fernández serves as program officer for USA Funds, coordinating efforts that reach state government policymakers, Hispanic Members of Congress, and other stakeholder groups. He is responsible for millions of dollars that USA Funds invests annually in philanthropic programs that advance its nonprofit mission, including its national scholarship program, support to other scholarship-providing organizations, outreach programs such as USA Funds Unlock the Future® for middle-school students and their families, and other endeavors that help families scale barriers to higher education.
2013 Founding Members of CHCI Alumni Association
The CHCI Alumni Association was founded in 1998 by the following visionary CHCI Alumni:
Miguel Gonzalez (Founding President), Spokesman/Senior Press Officer, National Education Association
Miryam Granthon-Gerdine (Founding Vice President), Analyst at Office of Legislation, HRSA, Department of Health and Human Services
William Ayala (Founding Secretary), Deputy Political-Economic Counselor, Guatemala, Department of State
Yara Alma Bonilla, Independent Consultant
Rodolfo Anthony De Leon, Assistant General Counsel, Office of the General Counsel, FBI Laboratory
Naomi Barry-Perez, Director of Civil Rights, Department of Labor
Alejandra Ceja, Executive Director, White House Initiative on Educational Excellence for Hispanics
Gabriella Gomez, Assistant Secretary for Legislation and Congressional affairs, Department of Education
Paloma Santiago-Adorno, Associate, Strategic Insight
2012 Hon. Liza Rodriguez
2012 Distinguished Alumnus-Judge Liza Rodriguez-DuronJudge Liza Rodriguez started her academic career in 1988 at Laredo Junior College where she obtained her Associate's degree. She was then accepted as a Meadows Excellence in Teaching Fellow at the University of North Texas, where she graduated with her Bachelor of Arts Degree in Political Science with a minor in Communication & Public Address. As a CHCI 1993-94 Public Policy Fellow, Rodriguez lived in Washington, D.C. where she worked as a legislative analyst with the Mexican American Legal Defense and Educational Fund (MALDEF). Judge Rodriguez graduated from St. Mary's School of Law in 1997. She spent an impressive 10 years at the D.A.'s office, where she prosecuted numerous cases from misdemeanor DWIs to felony murders. After leaving the District Attorney's office, she was hired by the County Court at Law Judges as their Chief Administrator. Judge Rodriguez was elected to the bench November of 2010 and began her tenure on January 1, 2011. During her first year in office, she was asked to serve on the DWI Curriculum Committee of The Texas Center for the Judiciary, which serves as the primary source of judicial education for judges throughout the State. Most recently, Judge Rodriguez has submitted a grant request to the Bureau of Justice Assistance for over $450,000 in order to establish a DWI Court which would provide specialized supervision for persons charged with a subsequent driving while intoxicated offense. Her vision for County Court #8 involves focusing on alternatives to incarceration, expanding the existing Adult Drug Court program in order to address public safety concerns, increase accountability and continuing to run an efficient court treating all those who come before her with respect and dignity.
2011 Orson Aguilar
Orson Aguilar is part of the new wave of civil rights and community leaders focused on ensuring that the American Dream remains accessible to all Americans. After completing his undergraduate degree in psychology from UC Santa Cruz, Aguilar was accepted into the 1996-97 CHCI Public Policy Fellows class, where he was inspired to complete his Master of Public Affairs at the University of Texas at Austin. After graduate school, Orson entered the Greenlining Institute Leadership Academy, which became a turning point in his career. Impressed by Greenlining's holistic approach to advocacy, Augilar joined the organization full-time as Program Manager. In 2009, Aguilar was unanimously selected by the Institute's board to replace the founding executive director—a prestigious honor—and lead the organization into a new era. In his role as executive director, he has become a nationally recognized advocate for communities of color on issues such as the environment, community reinvestment, philanthropy, and leadership development. He is a widely sought after consultant on these issues that not only affect Latinos, but the entire nation. Orson's entire career has been devoted to community service, which is one of the facets of CHCI's Fellowship programs—instilling the responsibility to give back to the community. Outside of his work at Greenlining, he serves on other boards and commissions that help make positive social change. A tireless activist and inspiring leader, Aguilar continues to be committed to making positive social change, and continues to be an exemplary role model for future CHCI Alumni.
2010 Gabriella Gomez
On May 1, 2009, Gabriella Gomez was confirmed by the U.S. Senate as Assistant Secretary for Legislation and Congressional Affairs at the U.S. Department of Education. She currently advises the Secretary of Education on legislative matters pending before Congress and serves as the Department's liaison in responding to Congressional requests. From 2006 to 2009, Gomez served as the lead policy adviser on higher education policy and issues related to innovation on the Committee on education and labor for Committee Chairman Rep. George Miller. She also served as lead negotiator for House Democrats on higher education legislation, including helping to successfully pass the Higher Education Opportunity Act, the College Cost Reduction and Access Act, the Ensuring Continued Access to Student Loans Act, and the America Creating Opportunities to Meaningfully Promote Excellence in Technology, Education, and Science Act. From 2001 to 2006, Gomez served as Assistant Director of the Department of Federal legislation, at the American Federation of teachers where she advocated on behalf of it's 1.4 million members in the areas of higher education, early childhood education, welfare, career and technical education, workforce development and immigration. From 1997 to 2000, Gomez served as a legislative assistant for Rep. Ciro Rodriguez, covering education, health, housing and labor, among other issues, on the local and federal levels, and serving as the Rep.'s liaison to the Congressional Hispanic Caucus. From 2006 to 2008, Gomez served as a Congressional Hispanic Caucus Institute (CHCI) Alumni Association officer. Gomez was a 1996–1997 CHCI Public Policy Fellow. Gomez earned a Master's of Education from Harvard University and a Bachelor of Arts from Loyola Marymount University, CA. She also studied British politics and public policy at the London School of Economics.
2009 Anna Maria Arias
Anna Maria Arias was beautiful, bright, and dynamic. Unfortunately on October 1, 2001 Arias' life was cut short when she lost her battle with aplastic anemia at the age of 41. Born in San Bernardino, CA, Anna was the first of three children and the only daughter. In 1987, she enrolled at Hawaii Pacific University and obtained a degree in communications. In 1988, she moved to Washington, D.C. for a fellowship opportunity with the Congressional Hispanic Caucus Institute (CHCI). Arias was driven and believed the best way to promote the advancement of Latinas within the U.S. was through economic empowerment. What motivated her was the lack of information available about Latina professionals. She published a start-up magazine for Latinas with her family's support and an inheritance from her father who passed away in 1991. Arias advocated for Latino causes and was a dedicated role model. In 1991 she launched LATINA Style as editor and founder. She then launched the LATINA Style 50 program in 1998 which recognized the best corporations for Latinas to work in the U.S., which in turn affected the way corporations promoted and appointed women to boards. In 1998, she created the LATINA Style Business Series, holding seminars and workshops for Latinas on a variety of different topics. To date, more than 23,000 Latinas in more than 70 cities have participated in the series. To honor her work, CHCI, General Motors in partnership with the Hispanic Scholarship Fund, and Mexican American National Association in partnership with State Farm™ Insurance Companies have created scholarships.
2008 Enrique Figueroa, Ph.D.
Enrique Figueroa, Ph.D., is one of the leading figures in agricultural development. He holds a bachelor's degree in agricultural education from California State University, a master of science in horticulture and agricultural economics, and a Ph.D. in agricultural economics from the University of California, Davis. Following his CHCI Graduate Fellowship, he served on the staff of the U.S. House of Representatives' Committee on Agriculture. In 1986 Figueroa joined the faculty of Cornell University's Department of Agricultural Economics and later the Department of Agricultural, Resource, and Managerial Economics. While at the university, his work focused on the analysis of marketing horticultural products in national, international markets, and underdeveloped countries, such as Africa, Southeast Asia, and Central and South America. In 1997 he was appointed to the U.S. Department of Agriculture to serve as administrator of agricultural marketing services under the Clinton Administration where he was responsible for eight divisions with more than 150 different programs. Figueroa was subsequently promoted and from 1999–2001 served with the Department of Agriculture as the deputy under secretary for marketing and regulatory programs. While at the U.S. Department of Agriculture, he served as co-chair of the Hispanic Advisory Council. In January of 2002, Figueroa changed career paths and was appointed the director of the Roberto Hernandez Center and assistant to the provost for Latin Affairs for the University of Wisconsin.
2007 Regina Aragón
Regina Aragón is an independent health policy and communications consultant with nearly 20 years experience in policy analysis, advocacy, and strategic communications at the local, national and international levels. From 1993 to 2000 she was Public Policy Director for the San Francisco AIDS Foundation, one of the nation's largest AIDS service organizations. At SFAF, she led state and national advocacy efforts in support of increased funding for HIV prevention and care, and advocated the adoption of evidence-based policies, such as needle exchange and voluntary confidential HIV testing. Regina was appointed to and served on the Presidential Advisory Council on HIV/AIDS from 1995-2000, during which time she co-chaired the Council's Services Committee and co-authored its final report to President Clinton entitled, "AIDS: No Time to Spare." She left the AIDS Foundation in 2000 to start a private consulting practice, which continues to this day. Over the past seven years, she has consulted for a range of non-profit, foundation and international clients, including: the International AIDS Society (IAS), the Kaiser Family Foundation, the Global Fund to Fight AIDS, TB and Malaria, the Levi Strauss Foundation, the National Institute of Allergy and Infectious Diseases/NIH, National Minority AIDS Council, the CAEAR Coalition Foundation, the Black AIDS Mobilization Initiative and the Pew Hispanic Center. In her current work with the IAS, she is responsible for message development and strategic communications for the upcoming 4th IAS Conference on HIV Pathogenesis, Treatment and Prevention (to be held in Sydney, Australia from July 22–25) and the XVII International AIDS Conference (to be held in Mexico City in August 2008). Regina has a Masters Degree in Public Policy from Harvard University's John F. Kennedy School of Government (1987) and a B.A in Third World Studies from the University of California, San Diego (1984). During her fellowship with the Congressional Hispanic Caucus Institute, Regina served as a fellow with the House Select Committee on Children, Youth and Families, where she helped organize a congressional hearing on women in the labor force and the role of child care.
2006 Dr. José Garzon
Dr. José Garzon is a native of Pico Rivera, California. He graduated from Whittier College in 1977 with a BA in Political Science and a Ph.D. from the University of California, Berkeley in 1986. Shortly after he completed his graduate fellowship with CHCI, José received a Fulbright Scholarship to conduct research for his dissertation during Peru's drought of 1983. A doctoral student with a particular interest in development, José traveled to South America, where he made a serendipitous contact with U.S. Agency for International Development (USAID) workers stationed on the ground to administer humanitarian support. The USAID team was short-staffed and offered José a temporary assignment to conduct drought relief monitoring. In 1986, he returned to the U.S. to receive his degree. Before long, José found his way back to Latin America and USAID. He has now been with the Agency for 17 years, working in diverse settings, from El Salvador to the Philippines, Bangladesh to Bolivia. José most recently served as Chief of the Rule of Law Division with the Agency's Bureau for Democracy, Conflict and Humanitarian Assistance in Washington, DC. José was part of a team that worked with the mission in Iraq to build a system from the ground up. José developed a concept paper outlining a comprehensive rule of law program tailored to the specific needs of Iraq, which will serve as the blueprint for USAID's work. José currently serves as the USAID's Guatemala Chief of Democracy and Governance. He is working on a new reality show that he helped support and approve through USAID. The show is challenging hardened former members of international gangs to make new lives for themselves by succeeding at a legitimate business endeavor with the help of private sector mentors. "Th e message that the show is going to send is that it's going to put a human face on the former gang members and that's never been done before. When you hear about some of the horrible things that go on, murder, rape, you can very easily dehumanize the gang member, "says José. "Witnessing the impact of development on the lives of ordinary people has been the most personally rewarding aspect of a distinguished career."