2023 Fall Congressional Interns
Jonathan Gutierrez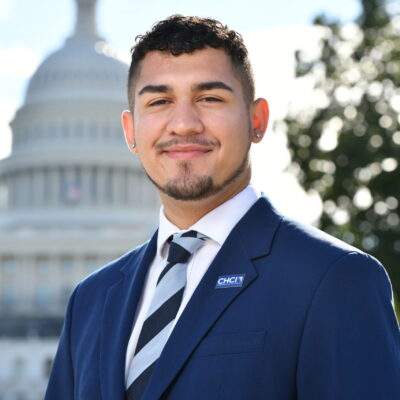 Congressional Intern, Presented By: Walmart
Hometown: Long Beach, California
School: University of California, Berkeley
Major: Legal Studies
Placement: The Office of Rep. Jesús G. "Chuy" García
Jonathan is from Long Beach, California, and is currently a junior at the University of California, Berkeley. As a first-generation college student, Jonathan hopes to provide a path to higher education for individuals statistically less likely to obtain leadership opportunities.
Jonathan is an HSF Scholar and a proud Hermano of La Unidad Latina, Lambda Upsilon Lambda Fraternity, Incorporated. On campus, he has worked with UC Berkeley's Brown Issues Chapter as their Political Educator to empower the voices of the Latino community. In this field, he has kept the next generation of brown leaders aware of U.S. politics and multiplied the number of students voting in their local and federal elections. Jonathan has constructed policy briefs for the United Farm Workers Union, worked alongside California's Public Interest Research Group in reducing plastic usage on UC Campuses, and collaborated with local clinics to promote STD prevention.
Upon completing his B.A. in Legal Studies, Jonathan plans to work toward a Juris Doctorate in Constitutional Law. Jonathan has always pushed himself to achieve his goals, striving to make his family and community proud. His ultimate career goal would be to work for the U.S. Congress to improve the lives of immigrant families and the LGBTQ+ community.
As a CHCI Intern, Jonathan hopes to strengthen his knowledge of the legislative process and gain insight into judicial relations. He will use his academic knowledge, cultural background, and experiences to make a difference in his community and inspire others to do the same.