2023 Fall Congressional Interns
Lizbeth Espinoza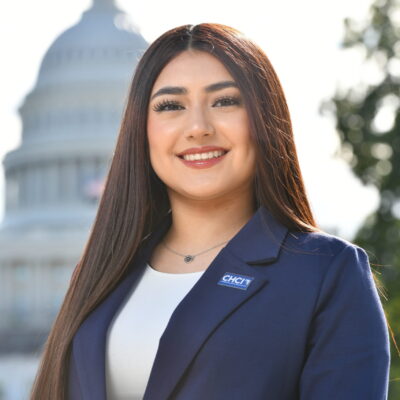 Congressional Intern, Presented By: Walmart
Hometown: Phoenix, Arizona
School: Arizona State University
Majors: Justice Studies, Transborder Chicana/o and Latina/o Studies
Placement: The Office of Rep. Ruben Gallego
Lizbeth was born and raised in West Phoenix, Arizona by her parents who immigrated from Sinaloa, Mexico. She is currently a senior double majoring in Justice Studies and Transborder Studies with certificates in Latino Politics and Socio-Legal Studies at Arizona State University. As a first-generation student, her parents always emphasized the importance of pursuing an education. Upon completing her undergraduate degree, Lizbeth hopes to obtain a master's degree in social justice and human rights with an emphasis on immigration.
At the age of 17, Lizbeth became passionate about advocating for the rights of those who are silenced or oppressed. She's a student leader with Aliento, a non-profit organization, in educating on policies directly impacting immigrant communities. She continues to spread Aliento's mission at ASU, aiming to provide affected students with access to resources and establish a safe haven, for those who are undocumented, DACAmented, or from a mixed-status family.
As a CHCI Intern, Lizbeth hopes to strengthen her understanding of the legislative process, as well as gain insight into immigration policies. She hopes to be able to use this experience to make a difference within her community while empowering others to be part of that change.