2023 Fall Congressional Interns
Maria Karla Leon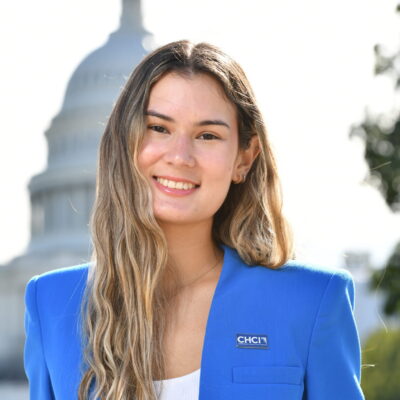 Congressional Intern, Presented By: Walmart
Hometown: Miami, Florida
School: University of Florida
Major: International Studies
Placement: The Office of Rep. Delia Ramirez
Maria Karla is a recent graduate from the University of Florida where she majored in International Studies with minors in Francophone Studies and Sociology. Born in Cienfuegos, Cuba, and raised in Miami, FL, she has always had a passion for serving her community. As the oldest of five siblings, Maria Karla is the first in her family to attend college and hopes to be able to set an example for them.
She has expressed pride in her Cuban roots through leadership in various Hispanic community organizations. Throughout her undergraduate career, Maria Karla served as President of the Hispanic Student Association, a Florida Cicerone Student Ambassador, and Director of Operations for the College of Liberal Arts and Sciences Student Council. During her senior year at UF, she was inducted into the Hispanic Latino Student Engagement Hall of Fame.
As a CHCI Intern, Maria Karla hopes to expand her knowledge of legislative processes. Her interests lie in addressing the systemic disparities regarding minorities. She has taken a special interest in how the legal system helps to perpetuate these disparities and hopes to attend law school to find better methods for addressing them.