Summer 2023 Congressional Interns
Maria Paula Rodriguez-Saenz
Current Position/Organization
CHCI-Comcast Intern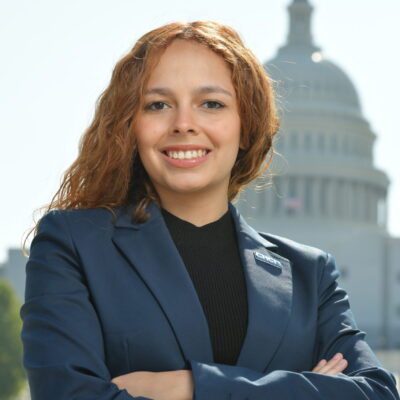 Hometown: Punta Gorda, Florida
School: Florida State University
Major: Political Science, Creative Writing
Placement: The Office of Rep. Darren Soto
Maria Paula was born in Neiva, Huila, Colombia but immigrated to Fayetteville, Arkansas with her family of four when she was five. As the oldest daughter, Maria Paula has always understood the importance of responsibility and education to give back to her family and community.
Maria Paula is a recent graduate of Florida State University. While completing her degree in Political Science and Creative Writing, Maria Paula focused her time on improving her skills in organization, communications, leadership, and many more. On campus, she worked as a tutor for the Student Athletes while managing her time as the Executive Writer for Project Patriarchy – a non-profit whose goal is to educate others on politics around the world. Through these experiences, Maria Paula has decided to continue her studies by applying to a JD program where she will continue learning about the legal field and perfecting the many skills she will need to be a successful lawyer.
As a CHCI Intern, Maria Paula hopes to expand her knowledge of the legislative process, as well as learn from the highly respected Hispanic individuals that have dedicated their lives to giving back to the community. She hopes to continue to embody her life's motto of "dreaming to do, doing to dream" so that she can one day use these life-changing experiences to become a change agent and inspire others to do the same.